SoapUI Runner Tutorial Demo Video
You've written great code that should knock your client's socks off. But before you send those socks flying, you need to make sure your software is completely ready. You need to load test it. By using the SoapUI Runner you can quickly and easily load test all your functional tests from SoapUI directly in LoadUI.
Short tutorial video
Long demonstration video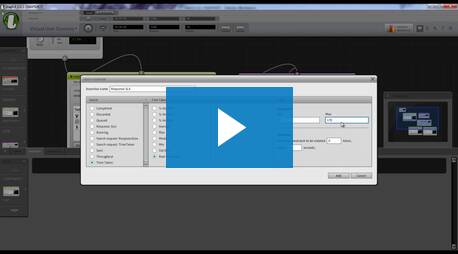 The soapUI Runner Component
You probably already know LoadUI, our cross-platform, Open Source load testing solution.
LoadUI takes distributed testing to a whole new level. Its visual, drag-and-drop interface enables you to create, configure and redistribute your load tests interactively, and in real time?
In a single test environment, LoadUI provides complete test coverage and supports all the standard protocols and technologies.
Sounds great, right? But you know what's even better? Integrating LoadUI with the SoapUI and the SoapUI runner, which enables you to import your existing functional tests from SoapUI, with all of SoapUI's supported protocols, into LoadUI and test them. How cool is that?
It's the next logical step in the software testing process, if we do say so ourselves.

How the soapUI Runner Works
Connecting a soapUI Runner to other Components
The SoapUI Runner creates a smooth workflow when you're testing your API. After you've created and run all your functional tests in SoapUI, just import them into LoadUI and see how they perform under load.
When you add the SoapUI Runner component to your workspace, just click the browse button and navigate to the SoapUI test suite you want to import. You'll see a list of all the test steps within that test case, and you can choose which ones to run. LoadUI also transports any test case properties, including session IDs and cookies, as part of the output so other components can pick up and use them.

Benefits of Using SoapUI Runner with LoadUI

Mixing components, such as several SoapUI Runners, enables you to easily create powerful, realistic use cases. For example, you could run a "login" test step, then split your logged-in users between "search" and "browse" test steps. Half of the users could then go to "buy" followed by "logout" test steps while the other half go straight to "logout."
The SoapUI Runner also updates itself in real time with any changes you make to the SoapUI test suite. If you change anything within the test suite, just wait a few seconds and LoadUI will update as well. This way you don't have to worry about what happens to your LoadUI test if you need to change something in SoapUI.
Oh, and if all of this isn't great enough, SoapUI runner integration is available in both Open Source LoadUI and LoadUI Pro. With LoadUI Pro you can also easily see how your SoapUI test cases are affecting your server. Look at anything from RAM  and CPU usage and disk I/O to database performance and resource utilization.
Ready to give it a try? Click here to download a free 14-day trial of loadUI Pro.
Ready to learn more about using the soapUI runner with loadUI? Watch the video above or read the tutorial to get started using the component.